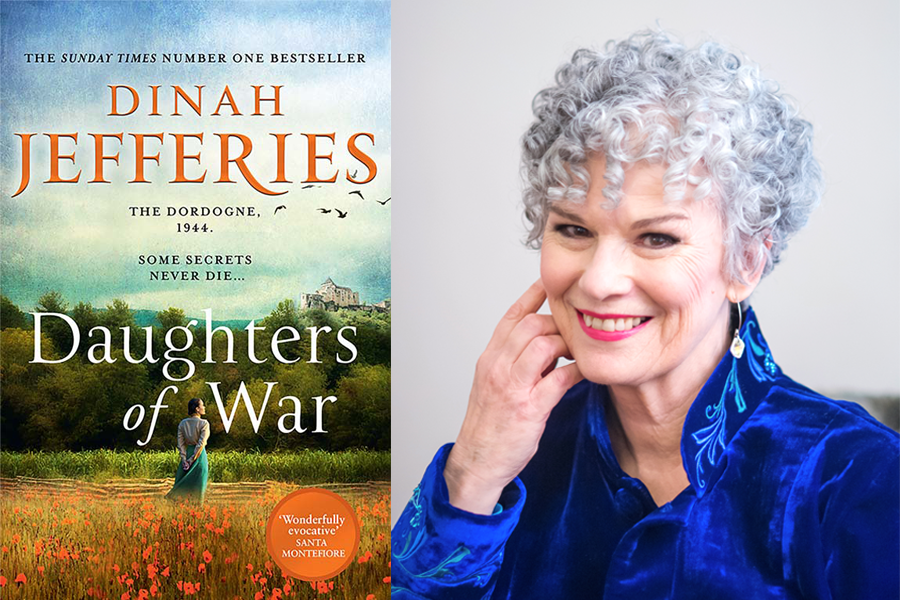 Dinah Jeffries on her latest book, Daughters of War
Despite the context of WW2, Daughters of War is a celebration of life, of the human spirit, and our ability to hold on to hope. It's the story of three Anglo-French sisters – Hélѐne, Élise, and Florence Baudin – who are living under Nazi Occupation in an old stone cottage not far from a village, deep in the Dordogne.
I was intrigued by the idea of contrasting this gorgeous setting – the waterfalls, rivers, medieval towns, chateaux, and castles – against the darkness of war.
I knew I needed to delve into the heightened tensions between the sisters at such a gruelling time.
While the war is the structure that holds the book together, that bookends it in a way, the real story, the story that I hope will grip my readers and touch their hearts, is how the sisters deal with fear and loss. How they feel about what is happening to them and to those they love, and how they cope when that love it is tested.
These three are very different women, just as my sister and I are very different, and they don't always agree on how best to survive.
Florence, the dreamer, keeps her head down, finds inventive ways to stretch their food supplies and cares for her goats.
Élise, the rebel, runs a letter drop to support the resistance and falls in love, and Hélѐne, is the safe pair of hands who looks after them all.
All three must learn how to be brave during an incredibly nerve-wracking time.
Normal life has disappeared, and people are on different sides – there are collaborators, there are resisters – so how do they know who to trust? And when the Allies turn up at their door late one night, the sisters must make a choice which changes their lives and leads them in unimaginable directions.
The book is about heartbreak and betrayal, but also bravery and love. And there's more. The sisters are strong heroines with big emotional stories. They think they know who they are, and where they belong, but just when the Liberation of France is almost upon them, a shocking family secret surfaces, challenging everything they thought they knew about themselves and their
family.
I would love readers to cheer the sisters on, be captivated by them, and want to know what happens next, because Daughters of War is just the first in a trilogy.
Next in the series will be The Hidden Palace, set mainly in Malta, but stretching from 1925 Paris to the post war years in England.
In the meantime, I hope it's uplifting for readers to lose themselves in the sumptuous beauty of the Dordogne which even the darkness of war can't destroy.
Although it was terrifically hard work at times, writing this story was an absolute joy, a wonderful adventure, and I very much hope you enjoy the book.