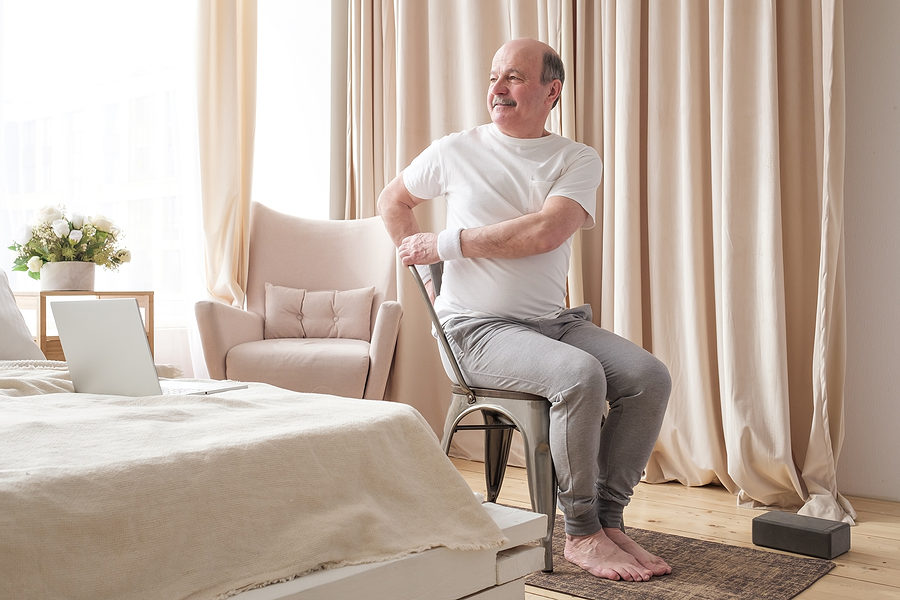 Book your place now for Chair Yoga with Sarah on Monday 6th December at 9:30am
You'll need a sturdy chair to support you during this class, such as a dining chair. Please ensure sure the chair is placed on a non-slip surface.
Improve your health and wellbeing with Sarah's gentle weekly yoga classes designed for the over 50's. On the first Monday of each month the class we will practice Chair Yoga.
Whether you're a beginner or have practiced yoga before, Sarah will teach gentle yoga suitable for all levels. All classes are a mixture of Slow Flow Hatha Yoga, stretching & strengthening  balancing & relaxation postures, along with breathing practices to enhance sleep and reduce anxiety.
Sarah's classes are expertly designed specifically for the over 50's and aim to deal with, and combat, common complaints such as:
bone health
injury recovery
rehabilitation
irregular sleep
anxiety & stress
By joining Sarah's class you will
improve your balance & flexibility
maintain good health
get regular gentle exercise
Join Sarah every Monday at 9:30am for 40 minutes of yoga practice, starting with a 5 minute warm up, 30 minutes of yoga, a 5 minute relaxation and then time for any questions at the end. Classes will be held virtually on Zoom.
All levels of experience welcome.
In the classes we will do slow flow Hatha yoga, stretching and strengthening muscles and joints, relaxing and reviving the Mind and Body. Occasionally Sarah will offer Yin and Yoga Nidra classes for enhanced relaxation sessions.
These sessions focus on breathing techniques, asanas and a relaxation period.
You are encouraged to confidentially and privately , discuss areas of physical complaints in order for Sarah to help with real issues that you may have. Please email [email protected] to get in touch.
All Silversurfer Club+ members can get a 15% discount on private 1:1 and partner classes with Sarah to enhance your practice.
Find Sarah on instagram and on facebook
As well as being highly accredited Sarah is fully insured both for in person and on line yoga class provision.
---
Silversurfers Club+ members can also join Sarah's Monday evening community class at 6pm
This is a gentle movement based session lasting for 30 minutes where you can learn the basics of yoga with props and aids support and help given.
All ages, body shapes and abilities are welcome and each week we will work with different styles (chair yoga, hatha yoga, yin yoga , yoga nidra etc) and investigate the mind and body's abilities (and limitations!) in a safe space held just for you.
You are welcome to join whenever you can, there is no obligation to attend every week.
Simply send an email to [email protected] to be added to the zoom mailing list, which will be sent out each Monday.
---
Guidance & Disclaimer – by taking part in classes you are in agreement to the following – 
You are responsible for letting the instructor know of any injuries or medical changes which could alter your yoga practice
Progress at your own pace and listen to your own body, hear and work within your limits – assess what works for you and leave what doesn't – gauge the safety of your practice within your limitations. Anyone attending Sarah Vas Yoga classes takes full responsibility for themselves.
You acknowledge that yoga asana can be physically strenuous and you voluntarily participate in them with full knowledge of this fact and the fact that the instructor is not liable for any injury or damages to person or property as a result of taking part in the class
Yoga is not a substitute for medical attention, diagnosis or treatment. You take part at your own risk and are responsible in deciding whether to practice yoga.
If you are pregnant and have not practiced yoga before we recommend attending a pregnancy yoga class – if you had a regular practice before pregnancy please let Sarah know on attendance and modify it to suit your body.